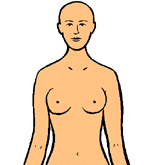 Breast Implants: The Surgery
Have you been thinking about getting breast implants?
This article gives you the scope on the procedure and any symptons you should be aware of.
Breast Implants: The Look and Feel
Are you unhappy with the size of your breasts? You aren't alone. Many women are unhappy with the size or shape of their breasts, so they decide to get breast implants.
The Eczema
What is eczema and how is it treated? The low-down is just a click away.

Hair Loss: Causes and Cures
Have you begun to lose your hair? Wondering why that happens and what you can do to stop it? Read on for some answers.

Using Retin-A
If pimples and blackheads are giving you the blues, don't despair. We have some helpful information on a treatment that can help: Retin-A. Show your acne who's the boss with this effective prescription.


Breast Cancer Risk
Check out the new interactive program that will estimate your inherited risk of breast cancer.